Ball Shoot Game, Glow in the dark Game|Dart Toy Guns,10 Floating Ball Targets, and 5 Flip Targets


Description :
GRAVITY-DEFYING TARGET PRACTICE FOR KIDS: This floating target toy take shooting target games to the next level with balls that hover mid-air and glowing targets that flip down with every hit; turn the knob to adjust the air stream and make the hovering targets float higher or lower

HOW TO PLAY THESE INDOOR GAMES: Flip the switch on the module to activate the floating ball targets, load your blaster toy gun with a foam dart, cock the firing hammer, aim, and shoot; easy-to-load blaster guns hold an extra foam dart on top

INDOOR TOY SPECS: Practice target shooting gallery measures 11.25" L x 3" W x 12.25" H; powered by 4 (AA) batteries or with the included USB cable; this indoor target game is safe for kids ages 6 and up, and is compatible with Nerf targets for kids

SAFETY AND QUALITY ASSURED: The AstroShot Zero GSX is a kid-friendly shooting target game for kids and adults with 25 feet shooting range.





NEXT LEVEL TARGET SHOOTING GAME

Test your skills with the glow in the dark gravity-defying AstroShot Zero GSX shooting game! Load the ball targets on the pedestals, power up, and watch the targets float in midair – now use your blaster and take out the hovering targets!





GAME FACE ON!

Play solo and hone your target shooting skills, or recruit your friends and family and take down all targets together!





ADJUSTABLE DIFFICULTY LEVEL

Make each round different from the previous ones by manually adjusting the airstream on the target shooting gallery. Make the balls float higher or lower -- it's your call





2 WAYS TO PLAY

Choose between taking down floating targets or flipping all knockdown targets. Or install them both and have a blast!





EASY FOAM DART GUN

Load your blaster toy gun with a foam dart, cock the firing hammer, aim, and shoot. This easy-to-load blaster gun holds an extra foam dart on top.





CONTENTS

 

AstroShot Zero GSX Shooting Target Game

1 Target Shooting Gallery (Requires 4 (AA) batteries. Not included)

Foam Dart Gun

10 Hovering Ball Targets

10 Foam Darts

5 Knockdown Targets

USB Power Cable

Ages 6+





Level-up your party game!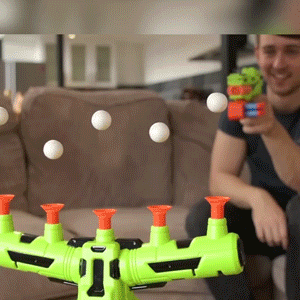 Christmas is right around the corner! Do you have new forms of entertainment in mind? Take out the latest interactive game that you can play with everyone in your family!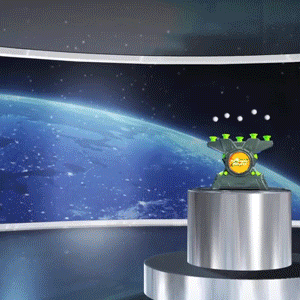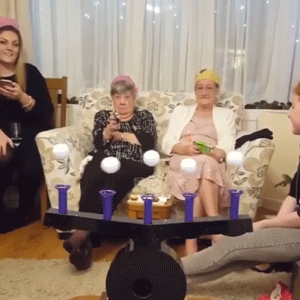 Exciting shooting experience
You can adjust the level of airflow based on the level of your gaming

Glows in the dark and illuminates neon green colored light

I

n

tensify your gaming experience with the help of the built-in speakers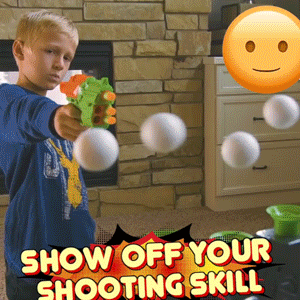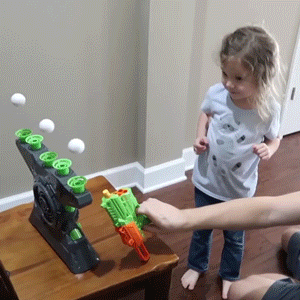 Improve your shooting skills
 Boosts your hand-eye coordination
 Great practice for perfecting your shooting skills

 Allows you to have better focus by shooting floating balls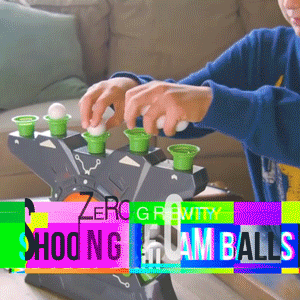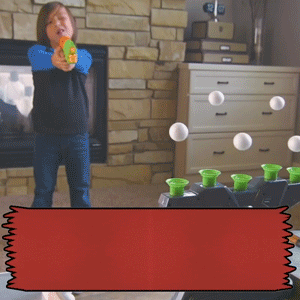 Enjoyable and challenging
  Fun to play at parties and gatherings with family and friends
  Gives you an opportunity to show off your great shooting skills by challenging your friends to play with you
  Players of all ages will certainly enjoy this type of game because it is interactive and safe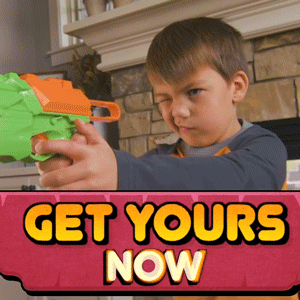 SPECIFICATION:
  Dimension: 33.6 x 28 x 9.8 cm
  Weight: 739g
PACKAGE INCLUDES:
   1 x Air Blowing Base
  3 x Soft Darts
  10 x Floating Balls
  1 x Shooting Gun