Unisex Invisible And Adjustable No Buckle Belts
$15.99
Unisex Invisible And Adjustable No Buckle Belts
.
Description:

NO BUCKLE ELASTIC JEANS BELTS: This Invisible Buckle Belt is a unique design for both women and men. Without Bulky Buckle, the no-show elastic belt Lays Flat under fitted tops that will never bulge and affect your neatly dressed. Besides, no matter Squat Down, Sit Down, Bending Down, or Hugging Baby, the buckle-free waist belt will not make you uncomfortable.
NO SHOW STRETCH CLOTHING BELT:

 

The men's stretchy buckle-less belt perfectly solves the force from a leather belt or nylon belt. This elastic strap is super comfortable, soft, and stretchy! Great for JEANS, SHORTS, SUITS, and so on. Good for Weight Fluctuation. A great alternative to a traditional belt.
NO HASSLE INVISIBLE WAIST BELT: With these Unisex Invisible And Adjustable No Buckle Belts No Need to buckle and unbuckle your waist belt when in the bathroom. No-Slip and will keep your pants in place all day!
NO SUPERFLUOUS WEIGHT BELT:

 These Unisex Invisible And Adjustable No Buckle Belts are 

Casual, lightweight, and breathable. Unisex Invisible And Adjustable No Buckle Belts are elasticated stretch belts that are suitable for outdoor activities and sports. It will not add superfluous weight when hiking, rock climbing, riding, camping, playing golf.
ADJUSTABLE BELT SIZES AVAILABLE! This stretchy belt fits waist size range 24"-50", which matches most people's waist size needed.
Flexible Sizing With an Adjuster:
You Just Need to Pull the Strap and Slide the Adjuster to Adjust A Suitable Size.
S-L size: Perfect for pants size 22"-36"
M-3XL size: Perfect for pants size 32"-48"



UNISEX BUCKLE FREE BELTS 
these belts are so comfortable and lightweight that you can enjoy everyday activities anytime, anywhere, or you can enjoy rock climbing, hiking, outdoor activities or daily commuting, schools, and more
No Buckle bulge & Invisible

No Annoying Belt Tail

No Curb Stress-free & Comfortable

No Hassle, Quick & Easy for Bathroom Breaks
Buckle Free Elastic Belt for Women 

This BUCKLE FREE belt can hold up your jeans without the bulky buckle.

This buckle-free belt for JEANS / PANTS / DRESSES is functional enough to be a necessity for your daily wear.

A GREAT GIFT for Mother's Day, Thanksgiving Day, Christmas, and Birthday for your mom, sisters, wife, girlfriend, or colleagues.
No buckle belt, there's no bulge and no flap on the side. This belt for jeans is very low-profile and keeps pants in place well.


COMFORTABLE QUALITY STRETCH BELT 

Made of high-quality elastic material, it's very soft and comfortable. Really relax your waist.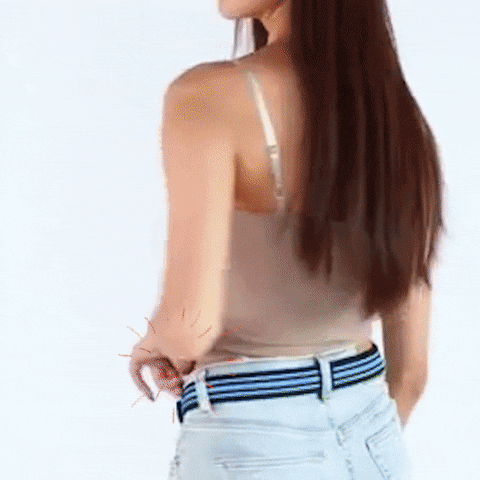 GREAT FOR ALL 
These belts work perfectly for men and women, kids from potty-training to school, teenage students, seniors, pregnant, weight changes, special needs, etc. so practical!
Specification:
Material: Cowhide and elastic band
Length: 100cm × 3cm
Weight:  60g