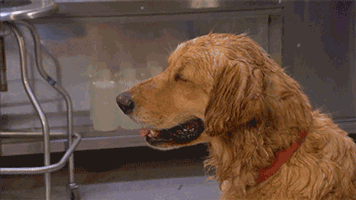 Now you can give your dog a cooling mat, which will provide your pup with the laying-on-the-cool-kitchen-floor effect that most dogs love.
The Pet Cooling Mat is your dog's very own self cooling mat that works not only as a pet cooling mat but also as a pillow, seat cushion, and computer cooling pad for you. This Eco Friendly multi purpose mat is suitable for pets as well as human beings. 
This Cooling Mat will ensure that your dog never has to experience heat exhaustion, and keeps them cool and comfortable at optimum temperature levels. As soon as your pet lays on the pad, the pressure activated cooling effect kicks into action and lasts for up to three hours (depending upon conditions)! Once your pet gets off the pad, it will automatically recharge within 15-20 minutes of non-use! Sound cool? Wait til you try it!

But that's not all! This mat is self-cooling there is no need to add water, freeze or chill. The ice silk material makes the surface temperature 3 degrees lower than the normal fabric, absorbing your pet's heat.
It is light and portable folding down to take up almost no space so your dog never has to be without his/her cooling mat.
Benefits and Features:
Pressure activated cooling keeps pets comfortable without freezing or refrigerating.
Lightweight and portable, suitable for indoor and outdoor use.
Offers relief from heat, muscle and joint pain, making ideal for pets with health conditions.
Prevents mosquitoes allowing your dog to sleep well on a nice summer night.
Protect your favorite chair, couch, sofa, etc from pets, spills, and stains! 
Suitable for pet as well as human beings, enjoy fast cooling in the hot summer. (perfect for a baby play mat!)
Made of ice silk it does not contain chemicals, polymers, glues, crystals or phase change materials.
100% machine or hand washable, machine washing will not deform your mat. Easy folding design to carry and store, perfect for travel and outdoor activities.