The quality of sleep you get each night greatly affects your mood every morning. There are numerous factors that determine the quality of sleep you get. The most common factor is your pillow. Choosing the wrong type of pillow can aggravate headaches and tension in the neck and shoulder area. The best pillow for you is one that will ensure you wake up refreshed and ready to face your day.

The Neck and Shoulder Relaxing Pillow is designed scientifically to support your neck along the base of your skull. This ingenious design will take the weight of your head off of your shoulders and neck ensuring maximum and deep relaxation.

An innovative pillow, it provides a relaxing comfort that will make you feel fresh and invigorated in just 30 seconds. It gently stretches relaxes and rejuvenates the neck and shoulder, providing instant safe and effective pain relief.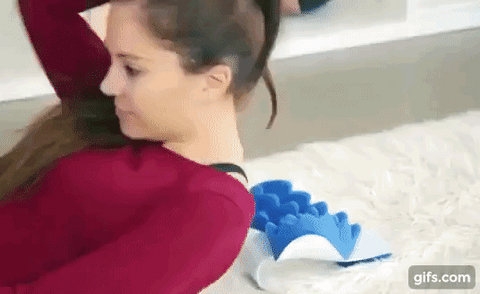 Features:
EFFECTIVE RELIEF:

 

Cradle your neck gently and helps place your head and neck in a more comfortable, pain-free position.
RELIEF IN AS LITTLE AS 15 MINUTES:

 

You can feel relief as quickly as 15 minutes.
SUPPORTS NECK IN A VARIETY OF WAYS:

 

Use it while sitting up in bed reading or watching tv, use it while working on the computer at work or even while driving - wherever you need relief from pain.
DEEP RELAXATION FOR SORE MUSCLES:

 

The smooth, gentle pressure and constant support give you instant relief and relaxation for the sore muscles in your neck, shoulders, and back.
 Specification:
Material: sponge+plastic
Color: blue
Weight: 115g