Play your favorite music while riding on your motorbike with this professional Motorbike Speaker.
ADJUSTMENT BRACKETS TO FIT YOUR HANDLEBARS
Simply insert your SD card or connect via Bluetooth to play music. Take your ride to the next level and play your favorite music with crystal clear quality!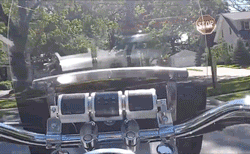 Made from high quality metal aluminum materials, has anti-slip feature and very convenient to use. Perfect for all music lovers!
Features:
Dual waterproof speakers
Wireless bluetooth connection
Anti-slip feature, made from premium materials
Play music from Micro SD card / AUX cable
Adjustable bracket to fit perfectly
Easy to install
Bluetooth Wireless (can connect up to 50 feet away)
3.5mm Audio Jack AUX IN
USB 2.0
microSD Slot
LED display and FM Radio
FM station storage up to 18 stations
Display with Clock
Size: Length about 30.5cm (including bracket), Cylinder diameter about 6cm, Handlebar about 25 ~ 28cm, Handle diameter about 2 ~ 2.2cm models.
Specifications of the band FM:
Cover: 87.5 - 108 MHz
Sensitivity: ≤37dB
Distortion: ≤0.5%
SNR: ≥40dB
General Specifications:
Color: Silver
Rated Voltage: 12V DC
Rated impedance: 4 - 8Ω
Bluetooth Ver.: 2.1+EDR
Bluetooth Protocol: AVRVP1.0, GAVDP1.0, ADVTP1.0, A2DP1.0
Wireless transmission range > 15m
Frequency range:20Hz - 20KHz
3.5mm Audio Jack: Yes
SD Slot Size: microSD
USB: Support USB Drive in mp3 format
USB Charging: No
Wiring Diagram
REVIEWS FROM FACEBOOK