Beauty and The Beast Roses,Foil Rose, Artificial Flower
Beauty and The Beast Roses, Foil Rose, Artificial Flower


Expressing your love for that special someone uniquely and elegantly! To add to the beauty of a sparkling rose, the never-fade preservation dome represents all the efforts made between you and your significant other to preserve the beauty of what you have together! 

Giving to a friend or relative is a nice reminder of your appreciation. Or even as a gift to yourself as a tasteful and unique lighting solution! 


Description  :
Long-Lasting Luster: Rose artificial flowers are precisely handcrafted by skilled artisans. Roses represent love, and 24k Rainbow color roses stand for forever love. 
 Packed in Gift Box:   The rose flowers come in a specially designed box with a transparent front face, the upscale immortal flowers could clearly see without open the box. Coming with a cloth inside, you could spray fragrance to the cloth accordingly to a favorite of your lover, mum, families, friends, etc, and the fragrance will keep long as 1 month. 

Beautiful Roses of Eternity Never Corrode:  Never Withered Roses have always been a symbol of beauty, love, and appreciation. Our gold foil rose is a pleasant gift for mom, for wife, for girlfriend. Besides, it is very suitable for home table decoration, office arrangement, party wedding decoration;

Wonderful Gift Ideas: Our 24k rose flower are wonderful presents for Valentine's Day, Birthday, Party, Wedding, Mother's Day, Christmas, Thanksgiving, Graduations, Teachers' Day, Anniversaries, Retirement, Funerals; Creative gifts for female eldership, lovers, children, friends, company staff and so on;
Beauty and Faith in Love: Each Rose Flower is a unique work of art that is a stunning symbol of long-lasting friendship, beauty, and love. Amaze the love of your life with the gift of an Eternity Rose, and give them the token of love they deserve.

Forever Rose: Artificial rose, symbolizing eternal love. The best is to give her the one she loves the most. Without you at night, it will accompany you for her. True love is especially suitable for you. Valentine's day; Mother's day; Christmas; Birthday; Wedding; Thanksgiving day etc. Especially valentine's day.
High Quality: The mask is made of high borosilicate glass, which is resistant to high temperature, more transparent, and free of impurities. The base is made of pine wood, which is more stable, not easy to dump, fine processing, smooth surface without burr, good sense of wood layering, with good after viewing.
Unique Gift: beauty and the beast rose We use traceless tape to stabilize the glass and base. You can change the flowers inside at will. DIY, your favorite products give your lover a special love
Power supply: USB. The led string light is made with high quality bendable and waterproof copper wire. The glass cover not only visually brings better effects to people, but also effectively protects the everlasting rose inside.
Easy to save: No discolorization, don't need water, no irritability, no pollen, Always like a flower to save three to five years; supple and shape, it can keep a long time, and keep the simple sense of the flower, the average life expectancy is three to four years.



Beauty and The Beast Rose Kit, Colorful Gold Foil Rose and Pearl Led Light in Glass Dome with Wooden Base for Home Decor Valentine's Day Mother's Day Wedding Anniversary






Golden foiled rose

Forever Preserved golden foil Rose Gifts





Pearl accessories

50 pcs pearl accessories are more elegant




Wooden base

High-quality wooden base rustic style




led light string

colorful led light string make the glass dome more charming



   Condition: 100% New and High Quality
   Material: Plastic, Polyethylene
   Color: Rainbow/colorful
   Package: A Rose Flower with Gift Box
Size: Rose snowglobe 5.3inch (diameter) x 19.84inch(height) led string light length:39.7in
Lifespan: Around 3-5 years (with proper care)


Home decor



First choice for dating festival


Perfect gift for any occasion
Valentine's Day, Anniversary, Mother's Day, Thanksgiving Day, etc.
Materials
Petal and leaf are made of plastic, the flower rod is made of Polyethylene with gold plated.
Meaning of production


Even if this colorful rose is not a real plant, it will never wither, never fade, never die. This rose will bring you a girl who will always stay young.
Exquisite packaging
The gift comes with a beautiful pink box, so you can give it directly to others.
Art of flowers
the colorful rose is perfect and impeccable. It is full of infinite hope and beauty as a rainbow.
Rainbow Rose Flower conveying a Bright and colorful love to the world
Colorful roses resemble a beautiful messenger with rainbow-like colors, conveying an indescribable love to the world. Each color of rose has its own unique meaning. The Rainbow rose is known as the rose of happiness. She blends the seven colors rose.
SAY YOUR LOVE
Your beauty is always colorful and beautiful in my heart forever, like our love is eternal, so it is eternal Love because of you!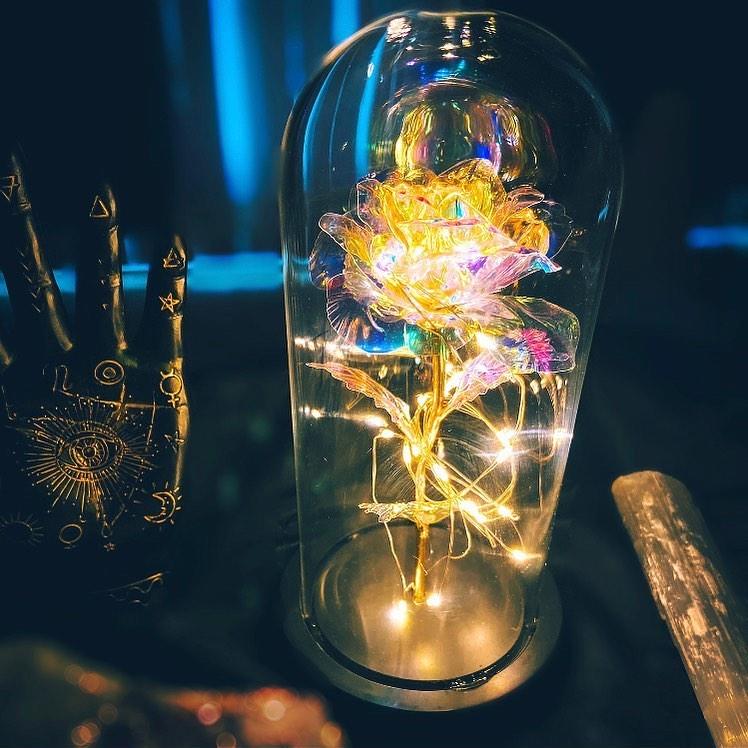 The magical glow of this iridescent rose won't cease to mesmerize the one you gift it to. What makes it even more special are the gorgeous fairy lights that surround it, filling the air with a soft glow when lit. 
Whether you are next to your partner right now or quarantined far away from each other, keep the spark alive. Send them all of your affection with the ultimate symbol of love, the enchanted glass rose. 
Package Includes  :
- 1x Rose Flower
 1x-Box