The hand-controlled UFO flying ball is more interesting than a mini drone helicopter!
Fun for young and old. It provides a great family interaction game with hours of fun. UFO Mini Drone adopts the latest LED infrared sensor hover technology, inductive suspension and collision protection. The built-in gyroscope can control accuracy and sensitivity to maintain balance. You just need to gently throw the UFO Mini Drone in the air, and it will start to fly immediately.
Features: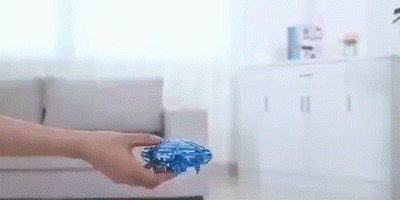 START YOUR ADVENTURE - Hand Operated Drone adopts infrared sensor technology with unique UFO design. No remote control. Throw the flying UFO out gently, it will start to fly. The hand control drone will fly in the opposite direction when your hands are near it, and you can control the directions or altitudes by your hand gestures.
DURABLE ANTI-RESISTANCE DESIGN - UFO Mini Drone is made with environmentally friendly non-toxic. Bouncy material design resist damage when it falls. Auto-Avoid Obstacles Design makes the flying UFO drone move away intelligently when it detects solid objects. 
360° ROTATING FLYING & COOL LED LIGHT - 4 Built-in Propellers and 4 Motors Fast Rotation provide power to keep UFO Mini Drone flying. The UFO Mini Drone will hover when flying to a certain level, and grab the UFO to make it flip. Super cool Green and Red LED lights make this UFO bright and colorful at night.
AVAILABLE ON THE GO - Lightweight and portable design allows kids to enjoy with flying toy drone at any time and anywhere. With built-in rechargeable lithium battery, charge the UFO Mini Drone for under 30 minutes with the included USB cable.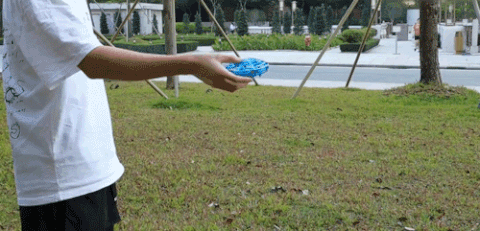 Package includes:
1 x Mini Drone UFO RC Helicopter