Mandoline Slicer will change the way you cook forever! Say goodbye to needing multiplied expensive kitchenware items, This slicer has multiple fantastic functions in one!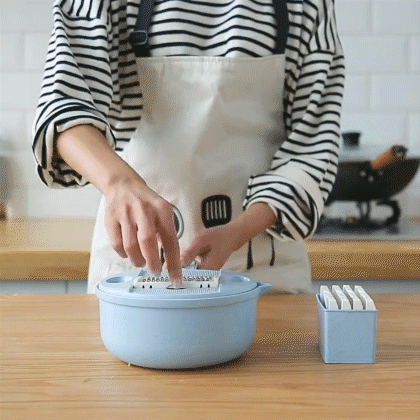 Whether you are passionate about cooking or simply want to simplify mealtimes, Mandoline Slicer designed to be as efficient as possible and is fit for any kitchen! It's so simple to use, Equipped with 4 interchangeable blades the Mandoline Slicer lets you grate, slice and peel anything! It's easily disassembled and a dream to clean, Just wash the disassembled parts with soap and warm water! The four detachable covers let you strain, drain and separate egg whites.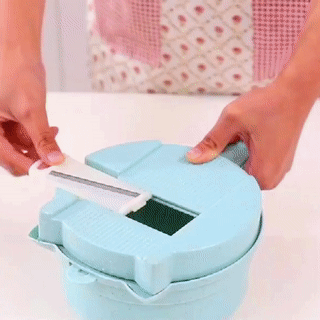 Meal preparation can be tedious work, Mandoline Slicer effortlessly handles multiple tasks in one simple to use the tool, Saving you Time and Money! The FDA approved materials ensure you know you are using the best quality for cooking. A mandoline slicer is truly revolutionary!
Features:
Made with Durable and long-lasting FDA approved materials.
Grates, slices and peels vegetables.
Simple to clean and disassemble.
Eliminates the need for a cutting board.
Save time on your food prep.
It can be used as a storage container.
Frees precious kitchen space by eliminating unnecessary kitchenWare.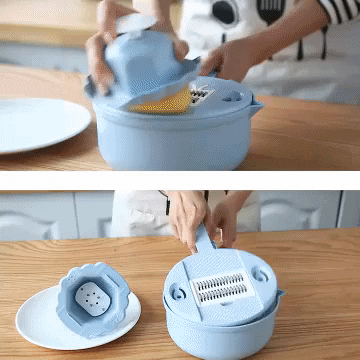 How to use:
*You'll want to leave the strainer inside throughout, as it makes it easier to remove sliced veggies for easy cleaning and straining. 
1. Clean your vegetable and peel skin if desired. 
2. Attach the little veggie hat to your vegetable.
3. Attach the blade of your choice to your Mandoline, making sure that you slide the blade in correctly and securely. The blade will be snapped in, locking it into place in the provided slot.
4. Cut, grate or slice your vegetable with the blade. Remove the strainer and clean veggies under running water. 
There is also an egg separator for separating egg whites and yolks.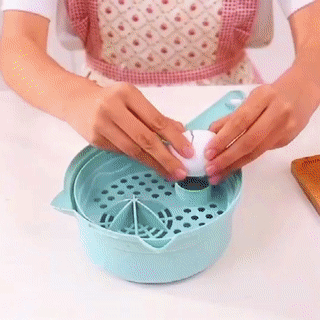 Package Includes:
4x Blades 
1xContainer
1xSlicing Guard hand Protector
1xDrain basket
1xSlicer
1xEgg Divider+Grater