Frequently, chauffeurs underestimate the risks of driving in adverse weather conditions, which can result in catastrophic accidents!
 This is especially true if the driver has never encountered bad weather on the road before.
 Conditions, such as snow, fog, or even heavy rain can make driving particularly risky for even the most attentive drivers.
 Meet the Magic Anti-Fog Mirror, which contains a couple of 2 anti-fog stickers for your car.
This nanometer coating protective film features high light, transmittance, waterproof, anti-fog, and anti-glare to improve your safety factor when driving.
How to use it:
Use a cleaning cloth to clean the dust and dirt off of the mirror, then peel protective cover from shield and spritz mirror and film with water (spray some alcohol, the product works better) before applying the rearview mirror shield to the mirror.
Once applied, use a scraper to push out water and air trapped underneath the shield, then remove the outer film.
Note: Please remember to wipe the dirt and dust off the shield.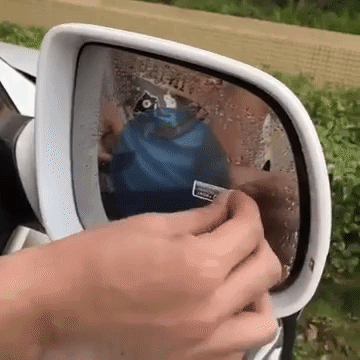 We are Number One in Customer Support!
 We are here at all times to answer your questions, solve issues, and assist you when you most need it.
 Simply send us an email at [email protected] and we will get back to you within 24 hours.
  ✓. FREE Worldwide Shipping.
  ✓. 100% Money-Back Guaranteed.
 If you are not happy with the product simply email us at [email protected] and we will issue a full refund asap!
 We guarantee 110% Satisfaction to all our customers.
Note: Please allow 2-4 weeks for the product to arrive at your doorstep.