STOP SUFFERING FROM POOR POSTURE AND FIX YOUR REST!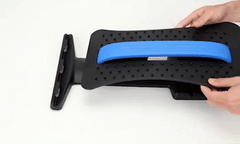 Activities that involve pulling, lifting, twisting with the low back or even prolonged sitting in an awkward position can cause injury and low back pain.  It provides back pain relief by lengthening muscles that have been tightened overtime. All in one back stretcher, posture corrector, and lumbar support. Say goodbye to back pain once in for all.
Features:

Relieves Back Pain: Laying on the Back Stretcher will quickly relieve your constant back pain. Give yourself the most heavenly, relaxing, back popping stretch your back is craving for.
Restores Natural Curvature: Restores that healthy, strong, natural curvature of your back. Giving you a healthier, confident, and more attractive look!
Corrects Posture: Easily fixes postural imbalances preventing tired muscles. Which means more energy to spend on things that actually matter to you!
 Improves Strength and Flexibility: Enhance your flexibility by decompressing your back while enjoying a deep stretch. Get that sweet back-popping relief in just a few minutes!
HOW TO USE:
Lay the stretcher on the ground, arch side up.

Make sure it's adjusted to fit your height. We recommend starting low. 

Slowly place your lower back down followed by your upper back.

Feel the massage and relax!
SPECIFICATION:
Function: 

Comprehensive Fitness Exercise

Teaching Mode: 

CD

 Purpose: Massage & Relaxation
PACKAGE INCLUDES:
1 X  Lumbar Spine Stretch Corrector