Steel Tongue Drums, HEALING DRUMS
Steel Tongue Drums, HEALING DRUMS
 A variety of sounds, a wider range of sounds, and more music can be played. Even beginners can play very pleasant music based on sheet music.

Description:
 Superior Quality: Perfect premium percussion musical instruments. Unrivaled handmade design with incredible attention to detail. A steel tongue drum with clear, warm, balanced, wooden overtones and a unique "dry" sound without the kind of distortion and metallic tones produced by other cheap steel drums. Can be played easily with fingers or mallets.
Ideal Shape And Materials: The shape, depth, and dimensions of the half-shells and the placement of the petals are highly precise and are the result of long-term mathematical calculations and experimentation. The surface of the protective paint not only looks beautiful but also prevents rust, abrasion, and scratching.
Professional Musical Drum:  13 Inch 15 Note Steel Drum: Constructed of steel and titanium alloy, coated by protective spraying-paint against tarnishing, scuffs, and scratches. Handcrafted by artisans, 15 notes tongue drums can produce a clean, ethereal, Buddha-like sound.
Perfect For Yoga, Meditation, Healing  The tones generated by this pan drum provide healing from stress, depression, and most forms of sadness. Its unique sound creates the perfect state for yoga, meditation, creative thinking, and intuitive messages.
The Best Musical Gift: The best steel tongue drum on the market right now. An affordable alternative to overpriced drums. A superior, easy to play musical gift for any age.Applicable to a variety of fields, including music education. To have beautiful sounds to purify your mind and soul, great for beginners. Comes with a travel bag for convenient transport.

Release the calming

 and 

anti-stress power

 of the Steel Tongue Drum!
Hand pan is a musical instrument in the
 idiophone class.
 It is constructed from two half-shells of deep drawn, with a hollow inside and in the shape of a convex lens. 

The top ("Ding")
 side has a center 'note' hammered into it and seven or eight 'tone fields' hammered around the center. 

The bottom ("Gu")
 is a plain surface that has a rolled hole in the center with a tuned note that can be created when the rim is struck, and our product has 9 pits distributed around it. 

Methods of Enjoying Well
Using hands or mallets.
Playing it with hands demands higher standards of hands' power and more accurate tapping position, therefore using mallets is your first choice(especially for new).
The sound under the mallets will be more penetrating, purer, and more ethereal.
Holding the mallet 1/3 and tapping the middle of the tongue head, you will get the perfect sound.
If some "noise" comes out when you playing it, it is mostly caused by tapping an incorrect location.
We are always trying to show more musical instruments to ways to celebrate making music.
4 REASONS TO CHOOSE THIS INSTRUMENT
1. Tongue Drum: As long as you follow your heart to explore, its ethereal sound can purify your heart and soul, and achieve inner peace.
2. Hand Drum: Easy to play, you can easily play with the attached drumsticks or both hands, and the attached note stick can help you make a beautiful sound.
3. Lotus Drum: It is built with the latest technology and is a high-quality musical instrument that can produce a unique tone on any occasion.

Features:

-High-grade steel material, strictly manual adjustment, manual cutting, each pitch is perfect.
-Handcrafted by professional craftsmen, it can produce a clean, ethereal, Buddha-like sound.
-Cute mini drum, easy to play, just hit the tongues, especially for children.
-There are a total of 15 tones, which have a wider range of sound and can play more music.
-No music background, just follow the heart to explore its origin sound can let you achieve inner peace.
-Silicone feet stabilize the drum's position during playing.
-Applicable to a variety of fields, including music education, yoga meditation, and so on.
-With a portable bag, you can bring any drum.

THE SOUND OF HEALING THAT LEADS TO NON-ORDINARY REALITY
Enjoy the soothing and anti-stress sounds of Hang Drum! It is very easy to play with and is the perfect gift for anyone who feels stressed.
The drum is handmade and professionally tuned to give you the best sound experience.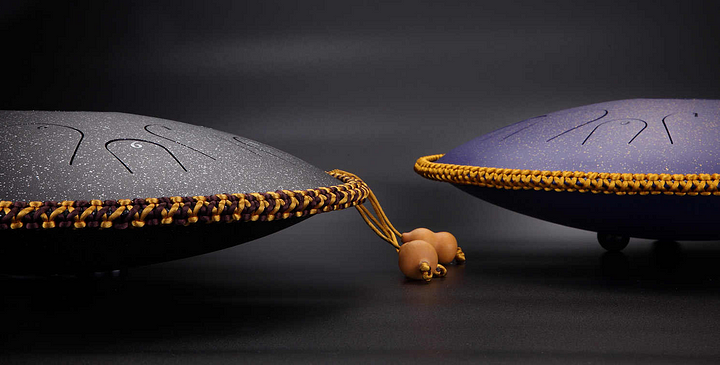 A sound you won't forget

The drum is often praised for its relaxing sounds and meditative effects.
All of our drums are tuned to the C major scale, which means they will produce beautiful sounds whether you are an experienced musician or a beginner. To play the drum you can use the hands or mallets provided to start producing beautiful music.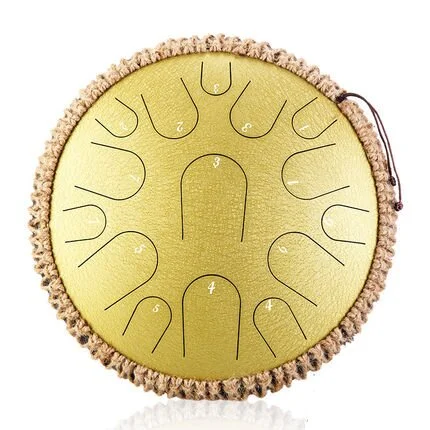 Perfect for yoga, meditation, and stress relief.
Throughout the world, yoga and rescue centers have begun to use elements of sound meditation. Sound and vibration induce a state of relaxation perfect for deep meditation and creative thinking.
The calming nature of the drum makes it perfect for use after a day of hard work, or a week of stress. The type of instrument we make is often associated with an area of interest where music and wellness meet. We believe that music is, among other things, a means to heal the soul and we are always happy when we learn that the Hang Drum is used for music therapy applications or even just for the pursuit of personal well-being. However, we like to emphasize that we do not attribute any "metaphysical" properties to the instrument itself: everyone can get different benefits and satisfactions according to their own sensibility.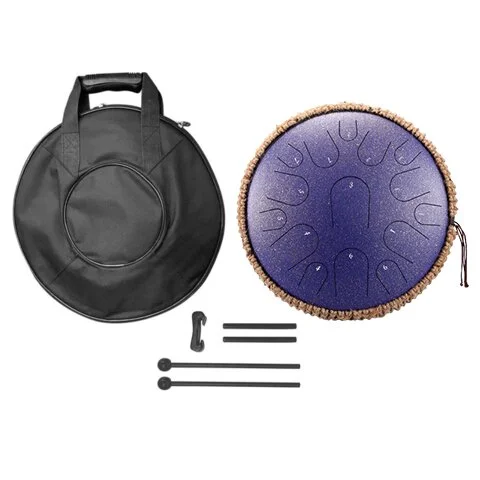 Package List:
1 x Steel Tongue Drum
2 x Mallets
1x Tonic Sticker
1x Music Book
1x Portable Bag
Tips:
1. The color difference caused by different shooting equipment is normal and will not affect the actual use
2. Errors in manual measurement data are normal and will not affect actual use
she banged on it cheerfully.

It made such a lovely sound into the night.