Folding Wooden Book Lamp
LED Wooden Light Book Lamp 
 Are you looking for a way to set up that romantic mood? Do you just want to add a certain ambiance to your space?
 Let this innovative Wooden Light Book Lamp take you to a whole new world.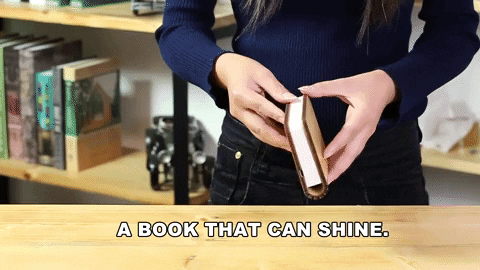 This fantastic creation is a great way to relax and connect when perhaps reading a new book or just having a relaxing evening.
 You can simply place this on your table with the lights off especially at night and just get lost gazing at the moonlight out your window while this beautiful lamp lightly glows in the dark.
 This lamp is so special not just because of how it looks but because of how it makes you feel.
 What you do to set the right mood can positively affect you emotionally, psychologically, and even physically.
 The lamp is really portable and convenient to take it with you anywhere.
 In case you are worried about getting liquid spilled on it while maybe having a cup of coffee or a glass of wine as you read your favorite book, the lamp is made from Tyvek paper.
 Tyvek paper is highly water-resistant and very durable. You can be assured that this lovely lamp will last for a very long time.
 This amazing lamp has a USB rechargeable lithium-ion battery that can last for about 3-6 hours! The battery capacity is about 1000mA and the charging time is about 2.5 to 3 hours.
 The Lamp uses LED bulbs that do not need to be replaced.
 This fabulous lamp also has inbuilt magnets so you can stick them to anything metal. The lamp also rotates 360° so you can display the lamp at any angle you desire.
 When you talk about creativity, this lamp is the very definition.
 It looks like a book on the outside but once opened up becomes a beautiful lamp.
 This is a great gift for anyone who has great taste in home décor. Truly this lamp is a must-have for every home. Grab yours today before they sell out! 
"Limited quantity in stock so hurry and get yours!"
Specs
Super Long 6 hours + battery life 
LED bulbs - no need to replace
Made of Tyvek paper / water-resistant and very durable 
USB Rechargeable
1000ma Lithium-Ion Battery - Safe + Tested 
360 Degree Ambient Light 
 # We are Number One in Customer Support!
 We are here at all times to answer your questions, solve issues, and assist you when you most need it.
 Simply send us an email at support@minismartworld.com and we will get back to you within 24 hours.
FREE Worldwide Shipping.
100% Money-Back Guaranteed.
 If you are not satisfied with the product simply email us at support@minismartworld.com and we will issue a full refund asap!
 We guarantee 110% Satisfaction to all our customers.
Note: Please allow 2-4 weeks for the product to arrive at your doorstep.