The LED Flame Bulb will light up your life in ways that you probably never experienced before! With its orange flame hue, it's the perfect adornment for homes and spaces that exude peace, romance, and serenity.
It doesn't matter if you use the LED Flame Bulb for a dinner date, a meeting, a group study or a typical meal with family; this unique light bulb is guaranteed to delight your visitor or start a conversation.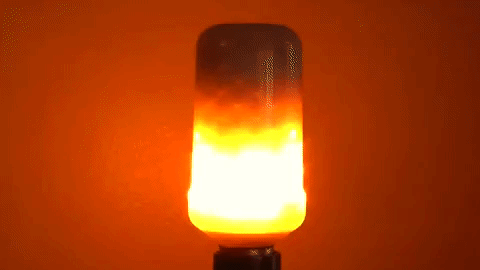 Features:
Most innovative flame bulb on the market; control 4 different lighting settings easily using your lights on/off switch. (Flickering--Gravity sensor--Standing--Breathing) 

Can be used indoors or outdoors to create the atmosphere of a fireplace or lantern.

Flame Bulb is built with durability in mind combined with a 5,000 hour life-span

Is perfect for setting a peaceful, contemplative atmosphere or romantic mood lighting.

Product appears to have flickering flame similar to a lit lantern. Additional settings allow a pulsing flame or a simple static orange hue.
Specifications:
Input Voltage: AC 85V - 265V
Lifespan: Over 80,000 hours
Shell Material: PC (Resistance of 105℃) 
Voltage: AC 85-265V
Wattage: 7 watts
Color Temperature: 1500 K-1800K
Beam Angle: 360 Degrees 
Size: 62*156mm
Bulb Holder: E26/E27
Package: 1 PC LED Flame Bulb