Granddaughter Bolo Bracelet With Two Personalised Engravings
Choose your words for her:
Granddaughter Bolo Bracelet With Two Personalised Engravings
Description:
Material:A heartfelt granddaughter gift, this stunning bolo-style bracelet is finely handcrafted and lavishly plated in sterling silver with 18K gold-plated accents
Length:Adjusts from 15.2 to 22.9 cm L(A heart-shaped slider bead lets you adjust the size of this bolo-style bracelet from 6" to 9" to fit almost any wrist.)
Why we create this?: Few words can express the many, many blessings your granddaughter has brought into your life. But now you can show her just how you feel with a delightful jewellery creation that is personalised two ways - with your granddaughter's name and the name by which she affectionately calls you!
Introduction:At the centre of this personalised jewellery design is a beautifully decorated larger bead engraved with your granddaughter's name on the front, and with her nickname for you and the words "Loves you!" engraved on the back. Flanking the centrepiece are six charms representing the blessings of a granddaughter - butterflies for joy, roses for beauty and hearts for love - and embellished with genuine crystals.  This sterling silver-plated bracelet arrives in a custom presentation case with a touching poem card, and strong demand is expected. So don't wait - order now!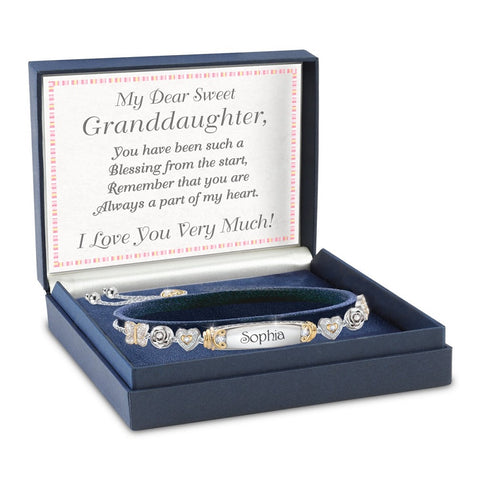 This exclusive Dear Sweet Granddaughter Personalised Bracelet from Amourstory features:
1.Capture the special bond between granddaughter and grandmother with the Dear Sweet Granddaughter Personalised Bracelet, a fine jewellery exclusive from The Fridayjewelry
2.This finely handcrafted bolo-style bracelet is lavishly plated in sterling silver with rich 18K gold-plated accents
3.Personalise it two ways! Provide your granddaughter's name and the name she affectionately calls you - Grandma, Nana, Grammie, or any name you choose - to be engraved on the front and back of the centre bead
4.The words "Loves you!" are engraved beneath your nickname for a sweet reminder of your affection
5.Six additional charms symbolise the blessings of a granddaughter - butterflies for joy, roses for beauty and hearts for love - and sparkle with genuine crystals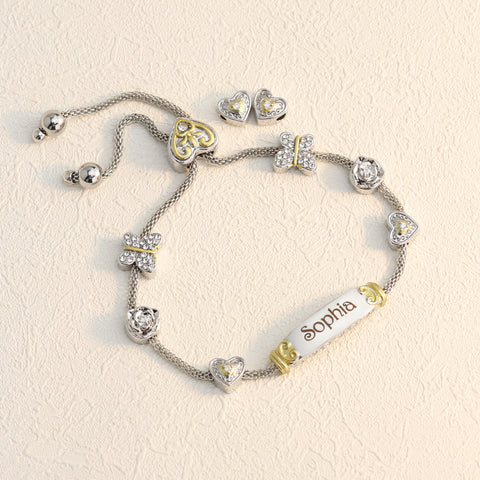 6.A heart-shaped slider bead set with another crystal adjusts the length of the bracelet and makes it easy to put on and take off
7.A one-of-a-kind personalised jewellery gift, this sterling silver-plated bracelet arrives in a custom presentation case with a specially prepared poem card expressing your love
8.Certificate of Authenticity
9.Adjusts from 6" to 9" L; 15.2 to 22.9 cm L