This is astonishing! You know all those makeup tutorials you posted where the light was all wrong and your face turned out looking green instead of, well, natural?
 Or those thousands of social media selfies where you're so washed out it looks like someone went over your pics with an eraser?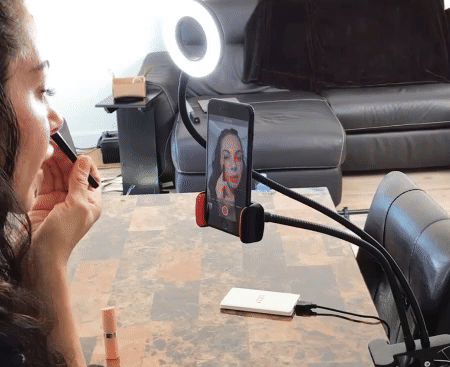 Yeah, all of that… gone in an instant. Turns out all we needed was the right lighting, and you don't need to spend a fortune to get it.
We're talking high-quality stuff that anyone can use anywhere, at any time.
 This phone ring light has 360-degree rotation, is super quiet, and delivers studio-quality lighting at the press of a button.
Selfie's junkies and makeup artists, get ready to be wowed.
 ✓. Super quiet. No humming noises droning away in the background. This is so quiet that if you didn't see the light, you'd forget it's running.
 ✓. Adjustable brightness. There are 10 different brightness levels to give you the exact lighting that you need.
 ✓. 360-degree rotation. Turn, twist, and move this ring any way you need it to go. It's fully adjustable so you always get the perfect angle.
 ✓. 3 color modes. Sometimes simpler is better. White, yellow, and a white-yellow combo. Just pick the light that works for you.
 ✓. Anti-slip. There's a rubber cushion on the base that stops it from slipping all over the place. It stays where you put it.
 ✓. Studio quality. We've got multi-filter LED lights built into our design so you get the absolute perfect light for whatever you're doing.
 "It's USB powered and works with any smartphone."
 You don't need special batteries or a certain kind of smartphone. This charges up with any USB and works with any kind of smartphone, including iPhones and Androids.
 Click that order button now and get your perfect lighting.
 This is taking social media to a whole new level of professionalism.
 Specifications:
 ✓. Material: Carbon steel and non-slip rubber
 ✓. Height: Ring light- 62cm, phone holder- 36cm
 ✓. Phone holder width: 5cm- can be extended up to 11cm
 ✓. Light source: LED bulbs
 ✓. LED quantity: 24pcs (12 white + 12 warm)
 ✓. Light power: 12W
 ✓. Brightness setting: 10 levels
 ✓. Power supply: USB charging
 ✓. Power cord length: 1.4m
 ✓. Rotation angle: 360°
 We are Number One in Customer Support!
 We are here at all times to answer your questions, solve issues, and assist you when you most need it.
 Simply send us an email at [email protected] and we will get back to you within 24 hours.
 ✓. FREE Worldwide Shipping.
 ✓. 100% Money-Back Guaranteed.
 If you are not happy with the product simply email us at [email protected] and we will issue a full refund asap!
 We guarantee 110% Satisfaction to all our customers.
Note: Orders will be processed within 10-20 business days of ordering and shipped out the next day after the processing day.