Trap Them with

K

i

n

d

n

e

s

s

Isn't it annoying that there's always a lot of flies that will bother you when you're trying to enjoy a great meal or just simply relaxing? Well, this Effective Electric Fly Trap will definitely help you to solve the problem without making any mess, unlike other type fly repellent that will leave bug carcasses laying around your home and release chemical compounds into the air.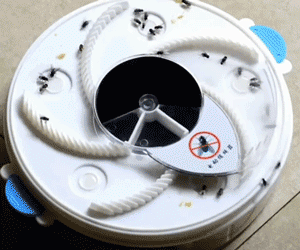 Its reusable as its not a spray or a strip that can only be use for one use. Its also very easy to use as you just need to put some natural fly food as bait and the rotating arm will then scoop up the fly and trap them inside the container. Then, you decide for the destiny of the flies that were trapped.
Effective Electric Fly Trap is an efficient way to control flies and they are reusable and durable. Get it before the Summer season hits your area and be well prepared with the best device. Not to forget, it's a silent trapper that works like a ninja.
Product Features
REUSABLE – it's made out of plastic material where it can be re-use a many times as you want unlike other insect repellent where you can only get one use out of it.
EASY TO USE – you just need to put some natural fly food as bait and by using a physical technique, it will ensure flies are attracted by the trapping food and turned into the box by the rotating plate. Powered by USB cable.
SAFE & ECO-FRIENDLY – Non-toxic, safe and effective. There is no need to use toxic chemicals or sprays which will harm your family, plants and pets.
Product Specification
Type – Pest Repellers
Package Weight –

0.42kg (0.93lb.)

Package Size – 18cm x 23cm x 4cm (7.09in x 9.06in x 1.57in)
Package Included
1 x Effective Electric Fly Trap
1 x USE Cable