DESCRIPTION
Enjoy gazing at a dazzling full moon every night of the year by bringing this 3D moon night light into your bedroom.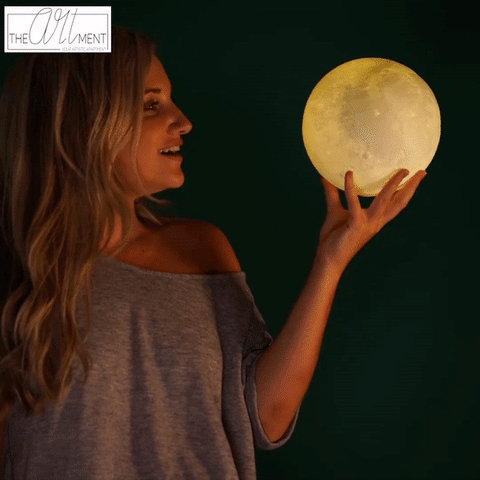 This lamp is made by innovative 3D printing technology, layer by layer stack and restores the real appearance of the moon. Each individual moon lamp has gone through a rigorous 31+ hour 3D printing process using state-of-the-art technology which accurately portrays the moons every surface and crater - resulting in an incredibly realistic moon.
It features an accurate depiction of the moon's surface and comes with two brightness settings that won't strain your eyes in the dark. The realistic looking night light has been made to look like the moon and has craters and pockmarks along the surface to mimic the moon's surface.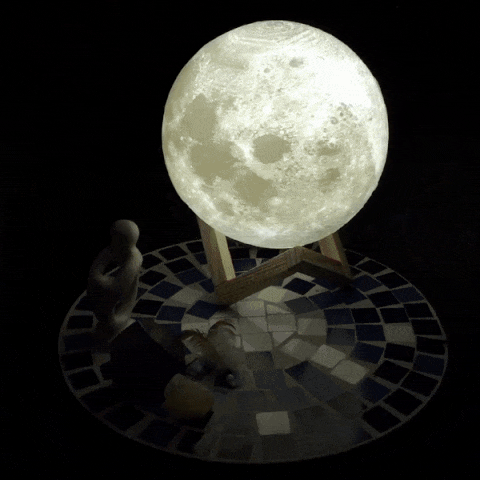 As well as this the Moonlight emits a soft white glow that really does look like moonlight (as the name suggests) and will light the area around it up with a soft white light. You can place it anywhere you like. This would be a perfect addition to your child's bedroom night table or in a home office where you simply want a nice relaxing soft light.
DETAILS:
Material:

 

Plastic body and wooden holder
Dimensions:

 

Regular size is 15 CM diameter and large size is 20 CM diameter.

*LED light source included

*Recharges with USB 
To get things going, just send us an image or loving words that you will love to have imprinted on the surface of the moon lamp, and our expert designers will have it emblazoned on the lamp. Magic Lunar customized moon lamps feature the most apt attention to details, a sturdy build and the best electrical fittings.

With a custom-made moon lamp, you have got the perfect Christmas gift for all your friends and family. And it will definitely make her shriek in excitement when you get a customized moon lamp as one of the birthday gifts for her!
Highlights:

•  Two colour options – switch between yellow and white lighting modes 
•  High performance – an optimum charge of 2 hours will yield 8 – 10 hours of working time.
•  Long-lasting built-in 500mAh rechargeable battery
•  Adjustable brightness 
•  Wooden Base - Sturdily built for durability
-------------------------------------------------------------------------------------------------

⚠️  Our Personalised moon lamp are the only ones on the market with a uni-body (single mold) design and is FCC, CE, and RoHS certified so you can rest assured that it's tested, approved, and 100% safe!