Why pay for expensive scratch repairs? 
The Car Scratch Pen is perfect for those scratches on your car.  Speedy fix to clean up the scratch in seconds. Only 3 simple steps to apply !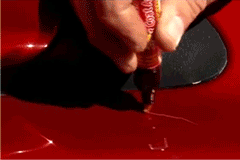 Portable & Simple steps to apply.

Excellent design for clearing coat scratch repair . Must item for car lovers and drivers !

Can be used on any car, in any color, spare tip.

DON'T use it for a deep scratch. Keep Pressing Until Liquid Flows Out.

Permanently removes scratches, small marks and scuff marks and will not reappear over time.

Suitable for all gloss paints and colors but will not damage vehicle's finish.

Can last and long time and you don't need to reapply it over and over again.