Relieve Pain While Treating Bunions!
Are you having trouble with your big toe that's preventing you from being active? Is your self-confidence dwindling due to forefoot deformity? Well, here's a great relief for you and your feet — the Bunion Splint Toe Straightener Corrector ! This is an easy and comfortable way to correct your bunion. The stretchable brace fits over your foot and adjusts your big toe. Bunions are a progressive disorder. They begin with a leaning of the big toe, gradually changing the angle of the bones over the years and slowly producing the characteristic bump, which becomes increasingly prominent and makes the deformity get progressively worse.
Features: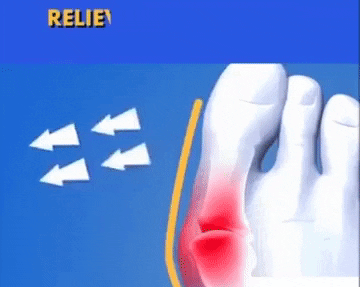 Effective Bunion Pain Relief: Allow for effective toe correction and bunion relief by using this bunion corrector toe splint. Feel the relief you've been waiting for. Your bunion pain will completely disappear when wearing this bunion splint.
Restore Natural Alignment: By wearing the bunion protectors it will gently realign toes to their natural position. Your toes will feel great when back at their natural alignment. Don't miss this great offer!
High Quality Design: Made from high quality medical grade materials to provide maximum hallux valgus relief. Soft and easy to clean bunion pads can be reused again and again. Bunion toe straightener will last a while.
One Size Fits All: The bunion bootie package is designed for comprehensive bunion treatment and bunion relief. Adjustable to provide a comfortable fit. This bunion splint fits all sizes and can be enjoyed by men and women alike.
SPECIFICATIONS:
Size : 14.5 cm (adjustable)
Package Weight: 0.033 kg
Package Size: 17 x 10 x 17 cm 
PACKAGE INCLUDES:
1 x Bunion Splint Toe Straightener Corrector