No more batteries rolling around in your drawer. Store all your batteries in one organizer!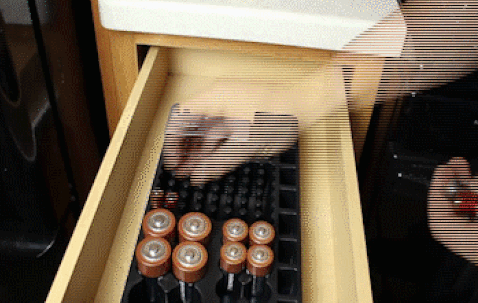 Keep your batteries tidy, organized and tested! Our Battery Organizer with Energy Tester lets you test your batteries and organize the ones you want to keep! Be able to quickly check which batteries are empty or full and keep them all safe and tidy in one place. It will save you a ton of time when replacing old batteries on devices!
Features:
Test the power: The organizer includes a portable energy tester that measures how much power is left in the battery, letting you know which are empty, full or those that are about to run out of power.
Easy to store: You can store it flat in a drawer, closet or mount it on the wall. Its slim design makes this organizer easy to put away.
Convenient organizer: The lid is made with shatter-resistant, transparent acrylic for full visibility without opening!
Keep battery safe: It helps keep your batteries organized and neatly stored. The organizer holds up to 93 different size batteries: 45 AA, 25 AAA, 4 9 volts, 8 C, 6 D, and 5 flat batteries.
Specifications:
Material: Plastic, Acrylic
Size: 35cm x 17cm x 4cm
Package Includes:
1 x Battery Organizer with Energy Tester (batteries not included)