The Box Dice Game,Wooden Board Game|Game For 4 Player
            The Box Dice Game, Wooden Board Game|Game For 4 Player


Do you want to share a good time with your family and friends?
Are you still looking for the perfect puzzle game toy?
We are more professional, shut the box game 4 player dice game, 12 inches 4 way shut the box game 4 person countdown, your most sincere trusted partner
.

Feature :
Type: Shut the box board game

Material: Premium wood

Size : 8.66 x 8.66 x 1.38 inches

Weight:?320g

Fit for kids and adults, 1 to 4 players.

With 10 dices and 10 numbered wooden tiles on each side.

The player can define the rules.

Made of natural wood, beautiful and shiny.
Description  :
 EXQUISITE DESIGN: This shut box is made of natural hardwood that is very smooth, delicate, no odor, and chemical composition. The bottom of the box is covered with a green soft felt surface

 DURABLE & THOUGHTFUL: High-quality wood and solid structure make this shut the box very durable, we added 2 extra dice in the package to avoid being unable to use due to the loss of dice

 CUSTOME RULES: Each board prints number clearly, each player owns 10pcs of board number from 1 to 10; roll the dice and lay down tiles that match the sum of the roll dice numbers. In addition, you can customize the detailed rules of the game

 SIMPLE AND FUN:  Great for Learning Number Operations, Perfect for kids and adults at home, parties, and outdoor activities, Not only can create a fun atmosphere but also increase the friendship between players

 CLASSIC SHUT THE BOX GAME: 1-4 player games for people of all ages, you can play with your children, parents, colleagues, and friends
Features :
EASY & FUN FOR ALL AGES

 

-
It is easy to play and fun. It can be played with 2 to 4 players and provide hours of entertainment!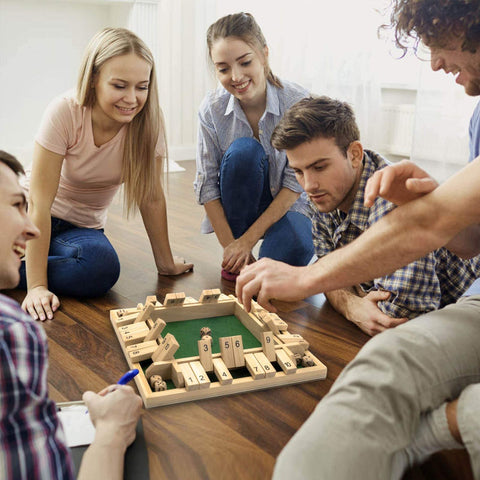 GREAT LEARNING TOOL

 

-
A tool for teaching basic additions, subtractions, multiplications, and/or divisions to the kids.
CLASSIC FAMILY GAME

 

- A popular game being played worldwide today. This easy game will provide hours of fun with your family/friends!


PREMIUM QUALITY

 

- Made of solid pinewood and measuring 9 x 9in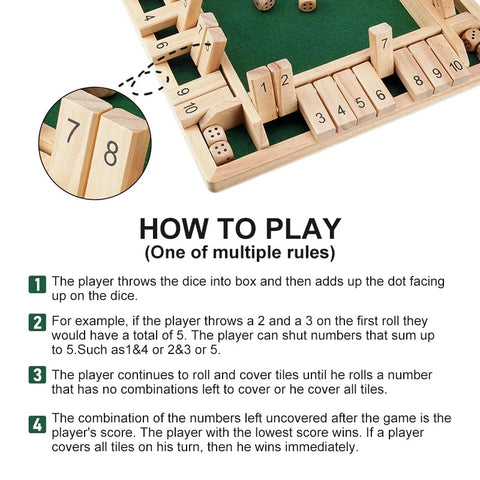 Parameter:
Material: natural solid wood

Size: 12 inches

Applicable people: adults and kids

Use: classrooms, parties, picnics, parties, and bars



                                         PACKET INCLUDES
                                   Shut the box board game x 1 
                                        Rule specification x 1
                                               Dices x 10